The Middletown Police Department with their union AFSCME Local 1361 have a history of supporting the local community. The list grows long of all the donations, fundraisers, and community events they partake in to benefit and show their appreciation for Middletown and Connecticut residents. Their altruism runs the gamut from collecting thousands of turkeys to donate to needy families for Thanksgiving, to sponsoring local sports teams and taking out yearbook ads, to supporting Project Graduation for Middletown High School seniors, and hosting a golf tournament and pig roast to help a wide range of community organizations.
"We have a good number of officers that were either raised in Middletown or moved here," said Middletown Lieutenant Nick Puorro who was born and raised in Middletown, graduated from Xavier High School, and now serves as President of AFSCME Local 1361. "It's not cliché to say that when people get into law enforcement, they want to help people and give back to their community."
For more than 15 years, their staple beneficiary has been the Special Olympics. Every year about 30 or more officers collect donations through fun and daring activities such as rappelling from the roof off a Connecticut casino and running in a torch-run through Middletown to hand off to the next runner in Cromwell. Last year they were the top department in the state for Special Olympics bringing in a whopping total of $22,700.
"Every day when we come to work, we have the opportunity to help, but above and beyond that we have the opportunity through donations and with events to strengthen the bond between these communities and the department," said Puorro.
Out of all the community-oriented fundraisers and events the department supports, their safety fair is what Puorro looks forward to the most. It is an event where firefighters and police come together to demonstrate the importance of public safety to children and families. Kids and their parents can see up close and personal the vehicles and equipment they use and even try on their gear. In Puorro's eyes, this exposure is a gateway to building stronger relationships between law enforcement and the community.
"At a young age they can see that officers are not someone to fear or be intimidated by, and know that we are there to help," explained Puorro. "When we're out in the community, people get to see the actual person behind the badge. This builds trust and fosters a sense of comradery between members of the community and the officers who work in the community."
Community relations are vital to the work Lt. Puorro and his fellow officers do. For Puorro, outreach and support for one's own community are front and center.
"I think it's important when you have that buy-in from the community; you're working together for a common goal and everybody strives to do what they can, so it is more of a team. We try to be more guardians than an occupying force and hopefully people will see that through the outreach we do."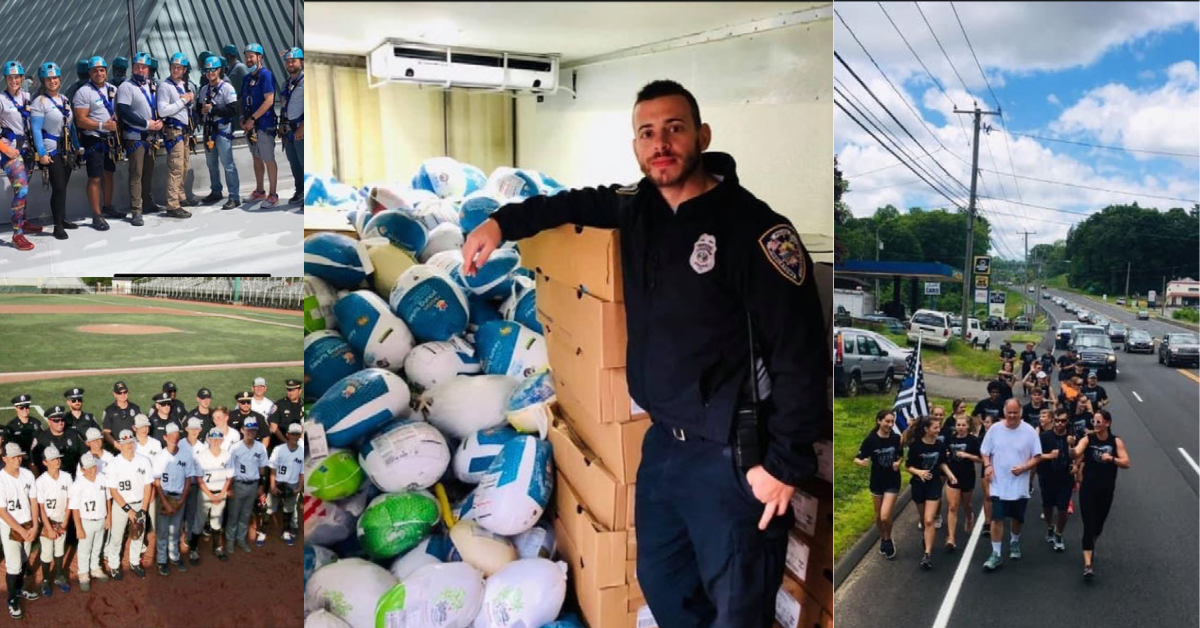 Clockwise from top left: Officers at a repelling fundraiser for Special Olympics, a Middletown officer with stacked turkeys donated for needy families on Thanksgiving, Torch Run for the Special Olympics, Police appreciation night at Middletown baseball league.